Custom Embroidery Products
Your #1 Source for Quality Embroidered Garments!
Hats - Sweatshirts - Bags - Polo Shirts - Jackets - Dress Shirts
Fleece - Hoodies - T-shirts - Blankets - Denim - Uniforms
Dress Up Your Staff In Our Name Brand Garments and
Have Us Embroider Them for That Professional Image!
Your logo on quality garments creates three things:
More Sales

Greater Moral

Increased Team Spirit
Ten Advantages In Choosing Vermont Sportswear to
Embroider Your Garments or Uniforms
Three multi-head embroidery machines

Free Delivery in Chittenden County

Personalized Attention

In-House Digitizing

Locally Owned

Over Ten Years Experience

Quick Turnaround Time

Hundreds of Garments and Name Brands
to Choose From

Thousands of Stock Designs

Satisfied Customers Reordering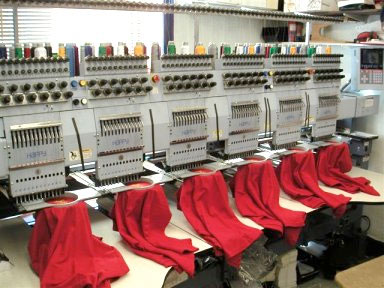 And in addition to our motto of
QUALITY SERVICE & FAST DELIVERY
we also believe you don't have to spend a lot to look great!